I had a good weekend not that we did anything exciting.

Saturday we went to Durham after doing a little house work.

It was really packed with people and it felt like the busiest city ever!!

We had lunch in a little café but it was not good, we will not be going back.

We had a wonder round and have started buying holiday essentials.

We ended up going home and sitting in the garden with a glass of wine and looking at tropical holidays.

It was lovely.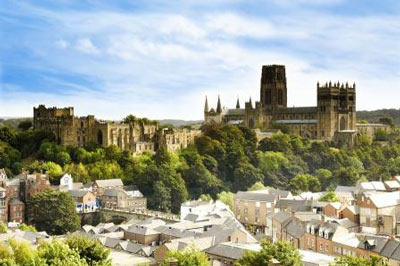 Not my pictures but Durham is beautiful city. Source.
Sunday I woke up really early feeling a little rough so I had some painkillers and breakfast and watched some geese and a kite in the field out the back of our house it was lovely.

No one was up and the sun was just rising, I wish I had time like that every morning.

I headed out on my bike at 8.30 for a quick 10 mile ride as I needed to be showered and ready for 10.15.

It was so good as there were hardly any cars on the road and it was lovely and sunny.

I was so pleased that I had managed to fit it in but hadn't dared tried running as my hip was really sore on Friday

. I am a little worried about a run i have next week and will be taking it easy on the running front till then. It is also now just under 6 weeks to Triathlon and I am exciting and nervous already.