Here we are again, yippee.
Here is what I ate last Wednesday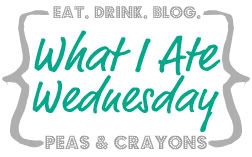 Breakfast was a tasty mushroom omelet.
Lunch was left over lentil Sheppard's pie and it tastes so good when it has been left over night.
Dinner was a chickpea delight with baked pita breads.

The pita bread goes so crispy and tasty when baked in the oven.
1 tin of chickpeas drained
1 onion sliced
1 pepper sliced
1 handful of cherry tomatoes sliced in half
Half a bag of spinach
Cumin, paprika, garlic and chilli
2 pitta breads cut into triangles
In a hot wok add olive oil, onion and peppers, cook until soft and add garlic, chilli and spices.

Cook

for 1 min. Add chickpeas and coat with spices and then add the chopped tomatoes.

Once they have started to soften add the spinach and stir though.

While this is cooking put the pita pieces onto a roasting tray and spray with olive oil to coat both sides.

Bake in the oven at about 200 for 10 to 15 mins.

They will go crispy but be careful as they burn easily.
Dish the chickpea dish and serve with the pita pieces.

I really tasty meal for two.
I have been a little naughty and had my first crème egg.

They are not as good as they used to be.
Last week was my first week of full running and even a session with the running club.

This week sees me returning to swimming.

So happy.
On the weight front I have not been good and gained 1lb. I am annoyed at myself as so close to goal now. I also had my first triathlon nightmare last night. i dreamt that my bike went missing!
My baby!
Do any of you have nightmares before taking part in anything? Also how do you deal with slight weight gains?