So here it is one of my fav parts of the week WIAW by Peas and Crayons.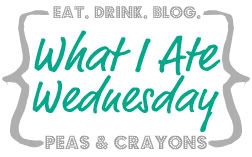 So as normal this is last weeks food and I have to say I am excited to share the aubergine chips I made.
I decided to make a thick and filling smoothie and it was lovely.

I included oats, banana, peanut butter, strawberries, grapes and milk.
My kind of pint!
Mid-morning I am still loving the fresh melon.
Lunch was another tasty salad as we enjoy some actual summer weather here in England.
Dinner was something of a mish mash of very tasty food.
I roasted some new potatoes and butternut squash and made a chilli tomato sauce with chicken to pour in top.

On the side we has Aubergine chips and it all was super yummy. I saw a recipe on Skinnytastes and adapted it as being extra good at the moment.
taste nicer than they look - honest!
I chopped a aubergine into chip sizes , dipped in egg white and rolled in gluten free bread crumbs.

I roasted them in a hot oven on an oil sprayed baking sheet for 10 minutes, then turned them over for another 10.

They were a big hit and I will be doing them again.
I have seriously been thinking about my dream to do a triathlon and think it is time to take some action.

I didn't tell a soul that I wanted to do one and now keep telling people in the hope that it actual comes to something!!

I have decided to pick my race for next year and go onto

a forum to get some beginners advice. I am hoping I can be advised on a training book.

I have also been told that there is a club near me and that they are very friendly and helpful.

I feel it is a now or never time and I pick now, well next year but you know what I mean.

The last race in my area is September so it will have to be a next year adventure! There are people who are negative and say I will not do it or laugh at the suggestion.

Well that has only fuelled the fire and so what if I come last as long as I tri!!
Before I forget at this weeks weigh in I lost 0.5lb. To be honest i was disappointed as i have really been keeping to plan and after last weeks very unexpected gain I was hoping for a good lose. My stomach has really started playing up again and I know that has a big effect on me. I think I have found the trigger but will see soon.
Exercise really helps with my stomach and I am so pleased I can do what I want and still happy that I got out on my bike at the weekend.
Do you have anything that you really want to try?
Also have you tried any new recipes that you have loved?