I love WIAW by Peas and Crayons.

I love waiting to see what she has posted about and then the excitement of posting my own eats from the week before.

I love looking at what other people have posted and the sense of community I get from it.

Some peoples food looks truly amazing and I often wonder how people have the time to make them!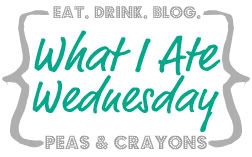 My breakfast was inspired from a breakfast that I have seen on many blogs and loved it.
Overnight oats in an empty almond butter jar. Heavenly!!
I would have NEVER eaten a nut butter before and am so thankful to have been introduced to it.

I always thought nut butter = fat belly!!

I know this is not true unless you add mindless eating of nut butter in front of it!

Tina from Carrots n cake loves it and she is super fit(in a none purvey way!!!).
Mid-morning I enjoyed a lovely chocolate orange Nakd bar.
Lunch in the office again was a lovely slice of pastryless quiche with fresh salad.
Mid-afternoon I have been rocking the fresh melon and it is lovely at the moment. I am not the biggest melon lover but it has been tasty.
Dinner was a tasty King prawn and brown rice stir-fry.

We have had this a few times recently but still very tasty nom nom.
Dessert this week I had a lovely chocolate mousse that was very naughty but nice.

I need to start looking at some new homemade family meals that are not too expensive
Well in all honestly I went to Weight watchers last night and I am so confused. I have not done anything different but somehow gained 2lb. The 2lb I lost last week, i really don't understand it at all! If anyone can give me some advice that would be great. I feel very down about it today.
What do you love about WIAW and what have you gained from it?