Another week gone and we are here again WIAW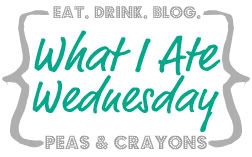 This week I am really trying to eat clean and so far it is going great especially as batch cooked at the weekend.
Breakfast was a tasty breakfast bake with fresh water and honeydew melon.
It was so easy to make.
Breakfast Bake
Coconut oil
2 Gluten free chicken sausages
Onion and pepper diced small
Grated butter nut squash
4 eggs mixed together
I cut the sausages into small pieces and cooked them in coconut oil then set them aside. I then cooked the onion, pepper and grated butter nut squash.

Once cooked I poured it into a dish and added the egg mix.

I baked it in the oven until it was set.

It took about 30 minutes.

I have made four portions out of it.
Lunch was a baked sweet potato with turkey mince chilli but somehow i forgot to take a snap.
Dinner was one of the nicest meals I have enjoyed in a long time and totally not planned!

I got in from swimming and was starving.

So made this lovey one dish/person meal.

It was Salmon and Zoodle broth.

So good and so quick.
Salmon and Zoodle Broth
1 Salmon Steak chopped into bite size pieces
4 Spring onions
Garlic, ginger and chilli
1 Courgette/zucchini made into Zoodles
Veg stock about 1 pint
Coconut milk
Heat some coconut oil in a wok and add spring onions, garlic, chilli and ginger. Once softened add veg stock, bring to the boil and simmer.

Add the Salmon and poach slowly.

Once almost cooked stir in coconut milk and add Zoodles.

Cook until

the salmon is cooked through and the zoodles are of a texture that you like. Serve in a bowl and enjoy mmm
Snacks have been a mixture of things including some yummy homemade summer fruit sorbet thing.
Watermelon juice.

Made by blitzing watermelon and fizzy water.

Really yum.
who needs wine when you have this beauty!
Has any meals surprised you recently?