I can't believe that last week I didn't even realise it was Wednesday let alone sort out my WIAW post!!

Today I am more on the ball (I hope!!).

So I usually post my fav meals of last week and today is no different.
Firstly thank you as ever to Peas and Crayon for starting this and can't wait to hear more about chickpea.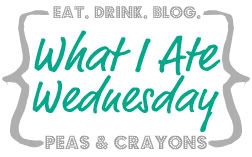 So my fav breakfast this week has been oats with millions of different toppings, ok not millions but different toppings!

My fav has been blueberries cooked in with the oats so they are soft and sweet.
I had some lovely homemade butternut squash and carrot soup and it was so easy to make.
½ butternut Squash chopped into pieces
½ onion chopped
2 carrots chopped
1 ½ pint of stock (you may want a little less or more depending on the consistency you like).
Cook all together and blend once cooked.

It is lovely but even nicer the day after.
Last Wednesday I went to a castle for dinner and it was amazing.

I was asked on the morning if I would attend a works, black tie, dinner and I jumped at the chance.
Starter was a herb crusted goats cheese with a beetroot and celeriac salad (I didn't eat the crispy disc or the herb crust as I didn't get chance to ask for gluten free)
Main Course was Roast chicken with a creamy mash, garlic puree and buttered vegetables, very yum.
Dessert did not fail with an amazing Quattro ice cream, chocolate truffle and Strawberry mousse. I didn't eat the strawberry mousse but the ice cream and chocolate was amazing.
Needless to say I have been extra good this week especially after my 1.5lb loss last week and drank a gallon of water and herbal tea.
My fav mug ;)
I got weighed last night and gained 0.5lb, i was a little gutted but not suprised.
How was your weeks and how you cope with unexpected meals out?