It is that time of the week again thanks to peas and crayons and I have missed a few recently.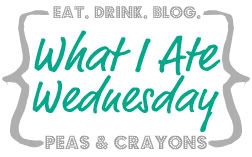 I am still flying high from a fab birthdayweekend and still so happy we hiked the three peaks at Catbells.
So last Wednesday was my actual birthday so this weeks eats are of Tuesday last week.
Now that I am off holiday I am back on the oats and topping them with yogurt and fruit has been yummy.
For lunch I stuck to some homemade lentil and veg soup but to be honest it was a little too hot for it!
Dinner was a very tasty affair with King prawn stirfry.

I used rice noodles and have found some really good ones recently that seem to have a good structure.
Snacks have been the usual fruit.
So down to the nitty gritty.

Each week I let you know how I have done on the weigh in front and well after holiday and birthday week (yes week, 4 meals out!) I have gained 3lb.

I am feeling ok with this but don't want it turn into a bigger gain so I am back on track and trying hard.

I can honestly

say I did not go mad on holiday just had a few extra treats and drank more alcohol.
On the exercise front I am back in the swing but I am drawing up a proper exercise schedule for September to get me into the zone as I have verbally committed to a triathlon next year.

I am super excited about this and will share more details later.
How do you manage holiday gains?